Helping Your Business Save Water — and Money
Rising water costs and ageing municipal infrastructure present challenges for businesses. Water efficiency upgrades can help your organization reduce its process and wastewater footprint to maximize environmental benefits and minimize costs incurred.
Partners in Project Green is developing resources and strategies to help businesses in the Greater Toronto Area discover and successfully implement water stewardship projects in their facilities. We are supported by the Region of Peel, York Region, and the City of Toronto and connected to a wide range of water efficiency experts and technology providers.

Currently, PPG is supporting local municipalities in promoting water efficiency programs for businesses. These programs are offered to businesses by the municipalities, with incentives available to help lower the capital costs required to implement water efficient upgrades.
From February 2017 to December 2018, Partners in Project Green established a Municipal Eco-Cluster working group focused on water efficiency, funded by Independent Electricity System Operator's (IESO) Education and Capacity Building Program V4.0 funding mandate. Below is a Summary Report on this program.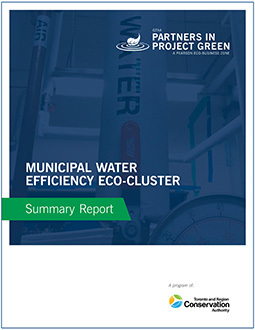 READ OUR
MUNICIPAL WATER EFFICIENCY
ECO-CLUSTER REPORT
WHAT ARE THE BENEFITS FOR MY ORGANIZATION?
Support in connecting you with experts and technology providers who can help you solve your organization's process water and wastewater challenges and realize efficiencies.
Learn from other organizations in our network that have improved their processes by installing industry best practices and innovative water efficient technologies.
Utilize existing municipal programs, supportive incentives, and potentially reduce process water and wastewater footprints and enhance utility savings.
Reduce your process and wastewater footprint to maximize environmental benefits and minimize costs incurred, while helping preserve our freshwater reserves. Improve Environmental, Social and Governance (ESG), Sustainable Development Goals (SDG), and Corporate Social Responsibility (CSR) performance of businesses.
Support the water and wastewater infrastructure management goals of the Greater Toronto Area municipalities.
Receive recognition within the Greater Toronto Area sustainability community through creative project case studies, industry speaking engagements, and features in trade publications.
HOW DO I GET STARTED?
1. Find the Water Efficiency Programs Available in Your Municipality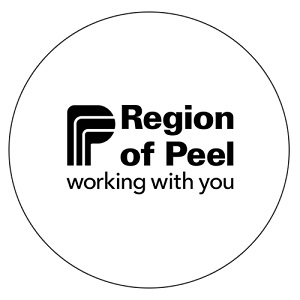 The Region of Peel offers an Industrial Indoor Water Assessments Program which includes a free on-site water audit for eligible businesses. Commercial and institutional businesses may benefit by replacing their inefficient equipment with water efficient units. Get More Information
York Region offers a free water audit to eligible businesses under their Capacity Buyback program. For some businesses, there may be eligibility for incentives based on the installed retrofits, however funding is limited. The Water Efficiency Equipment Replacement program can be utilized by any business that has only a few types of equipment to retrofit. Get More Information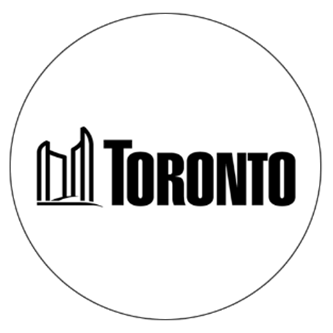 The City of Toronto offers a free water audit in their Capacity Buyback program with a one-time cash rebate. Additionally, a discounted water rate for manufacturers is offered to help support economic growth and encourage water conservation. Get More Information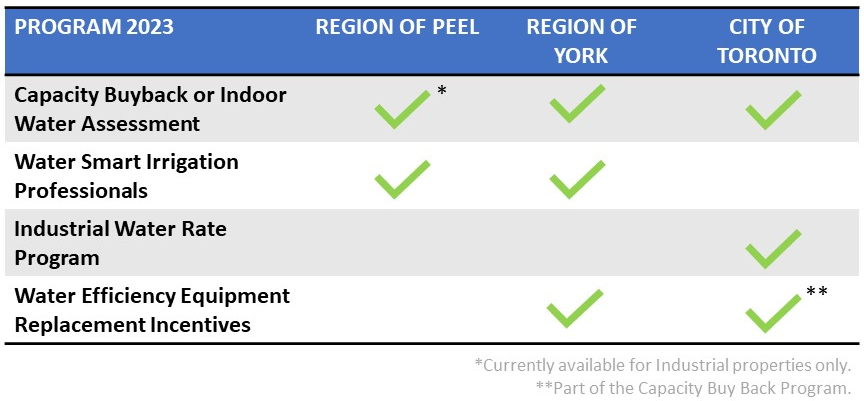 How do Water Audits Work?

Water efficiency programs typically begin with a Free Water Audit to assess current water uses and to identify opportunities for meaningful water and cost savings.

1. Businesses are required to submit an application to identify eligibility in the program.
2. If eligible, a regional representative will conduct a free facility water audit to determine current water usage and recommend retrofits to reduce your water bill.
3. Some regions, such as York and Toronto, offer incentives to support the cost of upgrades.

Contact the Region of Peel, York Region, or City of Toronto to inquire about a free water audit!
2. Get in Touch with Partners in Project Green
To get started, please contact chaya.chengappa@trca.ca
We would be happy to support members in determining which program makes sense for your business and begin facilitating connections with the municipal programs of interest, industry experts, and service and technology vendors that we represent and support.