General Membership permissions are required to access this content.
On February 25, PPG hosted Indra Maharjan (Director of Innovation, Technology and Alternate Delivery at Ontario Clean Water Agency) and Chris Le Conte (President of SMART Watering Systems Inc. CIC, CLIA, WSIP) for Water Efficiency in Ontario: Best Practices to Lower Your Operational and Capital Costs. The webinar explored municipal water efficiency programs that help Ontario businesses lower their capital and operational costs.
During the Q&A portion of the webinar, we received many questions from the audience for both Chris and Indra. Below, you will find their responses to some of the questions we were not able to address during the session.
---
Download the Presentations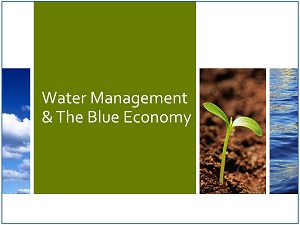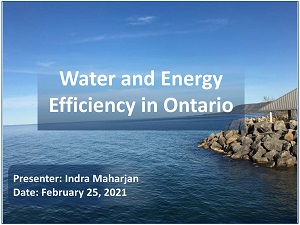 ---
Q&A with Chris Le Conte and Indra Maharjan
Q&A with Chris Le Conte, President of SMART Watering Systems Inc. CIC, CLIA, WSIP
Q: Is there an "average" ROI for water efficiency projects?
Typically for indoor it is less than 1 year (for the tenant that detects a leak early). The building owner (who typically does not pay the water bill) looks like a good landlord/manager by providing technology or a service that ultimately provides value to the tenant. 
Q: Are there any ground sensors to communicate with controllers in irrigation systems so when there is enough water, the irrigation system will not be triggered?
Yes, however these are more suited to residential application. They are not widely used due to varying soil types and microclimates on commercial properties. 
Q: What are the acceptable systems to collect rainwater and reuse it in irrigation or cleaning purposes?
Concrete tanks, polyethylene tanks, modular systems etc. 
Q: Have you looked at financial viability of 100% irrigation efficiency (e.g. not irrigating)?
Yes, we have clients that have done this with select properties. There are mixed results. Landscapers will not guarantee new plantings if water not supplied. After 7-10 days of hot dry weather we typically get called in to turn the systems on. 
Q: What service providers can advise property owners on baseline usage or leak detection?  
This is one of our business areas. Please reach out and I can steer you in the right direction based on your needs and locations.  
Q: Do residential toilets regularly leak? If so, how can one determine if that is occurring?  
You can hear them, use dye tabs or install technology on your meter. 
Q: Can wastewater be used for irrigation after treatment in various pockets/municipalities?   
You can hear them, use dye tabs or install technology on your meter. 
Q: What measurement devices offer the best combination of value/cost/ease of installation/accuracy?    
I have had a lot of success with the Alert Labs Flowie product but there are many products locally available. A good place to start would be researching "water leak detection". 
Q: How many landscaping / irrigation companies in the GTA have the WSIP?   
Approximately 80 companies. 150 individuals. Of those 80 approximately 10 perform assessments on a regular basis. 
Q: What technology is used for monitoring indoor water management? 
There are many technologies available.A good place to start would be researching "indoor water management leak detection flood detection"
Q: How should a property owner get started if interested in sprinkler system efficiency? 
Contact Landscape Ontario or their irrigation/landscape contractor.
Q&A with Indra Maharjan, Director of Innovation, Technology and Alternate Delivery at Ontario Clean Water Agency
Q: Can wastewater be used for irrigation after treatment in various pockets/municipalities?  
Treated WW is discharged into water bodies so technically it is already used for various purposed downstream. 
Q: Please elaborate on the U.S. EPA eTWh metric and how it can be used in municipal water conservation programs? 
The established energy and carbon intensity by US EPA or AWWA and other organization can be used as rule of thumb to be attached to water conservation KPIs. 
Q: Why is it important to showcase implementation case studies? 
Highlighting project is especially important as it motivates the project team, helps share the outcome of projects to broader community and increase knowledge and awareness among public the excellent work utilities and municipalities are doing.   
Q: How can we influence more municipalities in Ontario to consider adoption of water conservation measures for businesses?
Adding co-benefits of water savings in preparation of business case and effective communication on outcome of these programs is key to more adoption of these programs.  
Q: How difficult is it to translate the conservation of water to greenhouse gas / carbon footprint reductions? What are some of the areas to overcome this?
Industry derived conversion factors can be used with some verification on local level.   
---
Additional Resources
Natural Infrastructure and Climate Resiliency: This PPG program helps property managers, commercial developers, industrial manufacturers, institutional facilities, and business owners understand their climate risks and identify opportunities to mitigate those risks, and provides support to take action and become more resilient.
Material Exchange: This PPG program matches companies with other businesses or community groups to rescue unneeded materials. 

EV Business Survey: PPG is looking for feedback from business owners, developers, property managers and owners or operators of a light-duty fleet (cars, SUVs, vans) to inform potential municipal actions that can accelerate climate and clean air solutions such as electric vehicles.
---
About the Presenters
Chris Le Conte
President, SMART Watering Systems Inc. CIC, CLIA, WSIP
Chris is President and Founder of SMART Watering Systems Inc. (SWS). SWS is a water use monitoring, leak detection and reporting company that provides water management, irrigation services and consulting services for Architects, Municipal water efficiency departments and property management organizations. SWS has been recognized with many Water Conservation Awards including:
City of Toronto Water Efficiency Award of Excellence – 2009, 2010 and 2012

Landscape Ontario Water Efficiency Award – 2009 and 2013

Water Magazine – Water's Next Award 2011

2021 WSIP Water Optimization Award- Highest Confirmed Savings
Chris is a board member of several water industry associations including the OWWA Water Efficiency Committee and Landscape Ontario.
Chris is the recent recipient of the Irrigation Associations' Crawford Reid memorial award and speaks frequently at green industry events promoting water conservation and responsible water management.
Indra Maharjan
Director of Innovation, Technology & Alternate Delivery at Ontario Clean Water Agency
Indra Maharjan currently leads the Ontario Clean Water Agency's Innovation, Efficiency and Technology group and delivers innovative solutions around energy, climate change and resource recovery to over 220 municipal clients across Ontario. His unique ability to work with multiple stakeholders to develop, design and deliver innovative solutions has resulted in over 300 energy efficiency projects, energy and climate change strategic plans and 5+ codigestion projects that involves leveraging existing wastewater plants to generate clean fuels from food waste organics in Ontario.
He also volunteers with WEF, AWWA, OWWA, WEAO, ONEIA, Ryerson Urban Water, OSPE and PEO committees, and has been an active mentor for young professionals and newcomers in this sector.