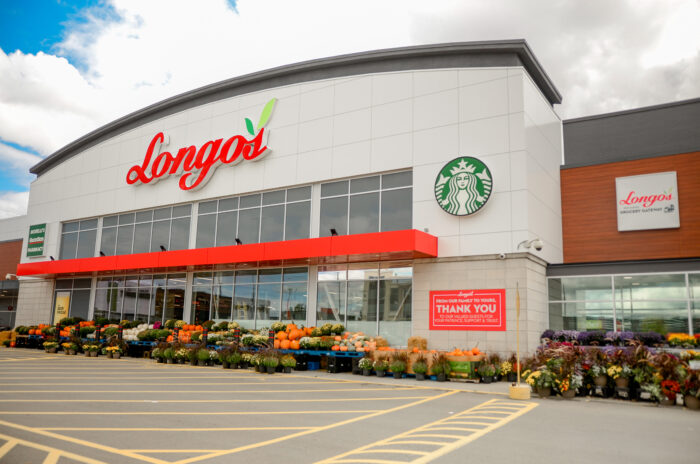 Longo's: Ontario Water Works Association 2021 Water Efficiency Award Winner for Multi-Facility Retrofits
"We would highly recommend that Partners in Project Green members operating in older buildings have water audits done as a way to not only reduce water consumption but also operating costs" Zachary Morgan, Facilities Manager, Longo's Support Centre
33%
Average
reduction
in water
usage
135
million L
Of water
saved
annually
15
Stores
underwent
water
efficiency
retrofits
Background
Longo's is a family-operated company that started in 1956 when three brothers opened their first fruit market. Today, Longo's operates thirty-six grocery stores and Grocery Gateway, their e-commerce operation. Rooted in its values of Honesty, Trustworthiness, and Mutual Respect, Longo's has built their business on the belief that guests should be treated like family.
In 2018 Longo's was informed by Partners in Project Green that York Region, the City of Toronto, and the Region of Peel were offering complimentary water audits, through their water efficiency programs for industrial, commercial, and institutional customers. Longo's took the opportunity to have these done at a handful of their stores. The audits revealed the areas of the store that were driving water consumption and how by changing some of the fixtures they were using, they could significantly reduce the store's water consumption. The return-on-investment presented in the audits was favourable and after some additional research Longo's decided to pilot the recommendations at four of their stores in York Region.
Solution Finding
Longo's decided to pilot most of the recommendations from the water audits. This involved adding aerators to faucets to reduce the litres per minute, changing spray nozzles to lower-flow nozzles and installing more water efficient toilets and urinals.
One of the challenges that Longo's faced with water use in the past is that anytime there was a significant change in water use, potentially due to a leak, staff would not find out until a couple months after the event, revealed in the water bill. To address this, Longo's installed Flowie devices at the pilot stores. Flowies have the dual benefit of being a leak detector and providing real-time water use monitoring. As Longo's began to install the new fixtures at their pilot stores, the Flowie device allowed them to immediately see the reductions in water use they yielded.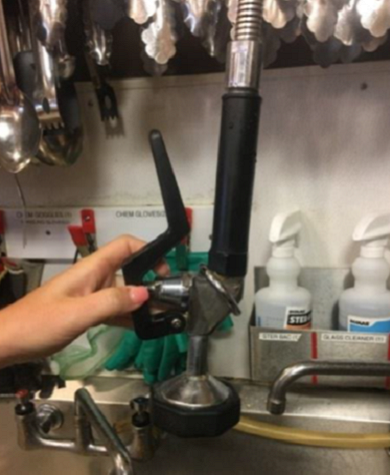 Pre-retrofit spray nozzle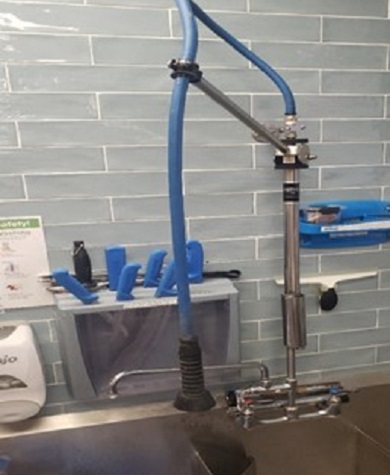 New industrial low-flow spray nozzle

Pre-retrofit 6 LPF toilet (typical)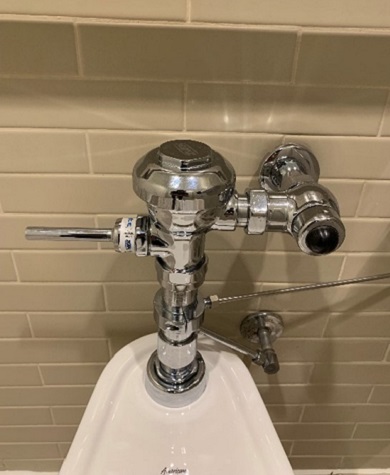 New water-efficient toilet
Key Metrics and Evaluation Tools
Longo's worked closely with their energy management partner, Exergy Associates, on this water pilot. Exergy Associates assisted with measurement and verification and put together the business case for implementing these same retrofits in eleven other stores with similar reduction opportunities. Longo's used the Flowie device to monitor water savings on water bills at these locations to validate the Flowie data and understand the return on investment.
Summary of Savings and Successes
The four-store pilot was declared a success and yielded a simple payback of 1.71 years and 9,027m3 of water saved annually. This equates to a 33% average reduction in water usage across the four stores. The retrofits in eleven other stores have shown similar reduction opportunities over 2020. Across all retrofitted sites, Longo's is saving 135 million litres of water per year – the equivalent of 54 Olympic-sized swimming pools!
One of the additional benefits from the project was that through purchasing new equipment for their older stores where savings were most significant, Longo's now has less repair expenses and service calls for water-related issues.
There were also employee engagement benefits. As a result of the efficiencies uncovered by their retrofits, Partners in Project Green nominated Longo's for the Ontario Water Works Association 2021 Water Efficiency Awards and were selected as one of the winners! This recognition helped draw attention to the project within the business and get their Team Members engaged on other sustainability initiatives.
Conclusion
The biggest take away from this project for Longo's was that there were more opportunities for water use reduction in older stores than in new stores built with more modern and efficient fixtures. Each of the changes required low capital to implement but had strong paybacks – in some cases under a year. Longo's would highly recommend that Partners in Project Green members operating in older buildings have water audits done as way to not only reduce water consumption but also operating costs.
To learn more about PPG's Water Efficiency programming, visit the webpage here.
If you are interested in improving the water efficiency of your business or sharing your water efficiency Case Study, contact: Chaya.chengappa@trca.ca.