General Membership permissions are required to access this content.
On August 27, PPG hosted Pratt & Whitney as a speaker for the monthly Green Economy Series. Pratt & Whitney is a long-time ESG leader, creating their own unique brand of Sustainability Strategy and informing and inspiring many others including Pratt and Whitney's parent company, formerly United Technologies and now Raytheon Technologies.
Pratt and Whitney designs and builds aviation engines at facilities all across the world, including a large facility in Mississauga, right in the heart of the Pearson Eco-Business Zone.
The webinar focused on the core components of Pratt & Whitney's Sustainability Strategy and how they intend to leverage the lessons of COVID-19 to help achieve their sustainability goals.
---
Download the Presentations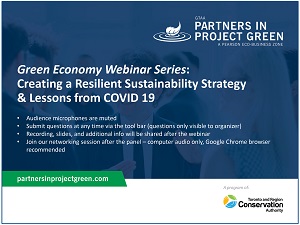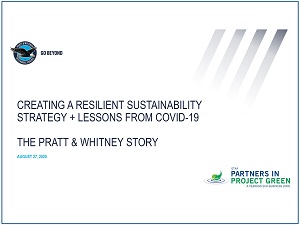 ---
Additional Resources
---
About the Presenter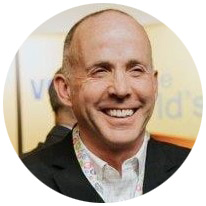 Scott Hendershot
Senior Manager – Sustainability, Pratt & Whitney
Scott Hendershot has been with Pratt & Whitney Canada for 23 years where he has developed a comprehensive understanding of the business from many perspectives. Over the years he has held positions in Facilities Engineering, Development Assembly & Test, Project Engineering, Operations and Customer Support.
From 2011-2019 he played an active role in developing and embedding Sustainability at Pratt & Whitney Canada, and as of Fall 2019 carries out his responsibilities as Senior Manager – Sustainability reporting to the larger Pratt & Whitney organization based in the USA.
Scott's broad knowledge, keen interest and dedication to caring for 'Spaceship Earth' are what drive his motivation to change the world.