A Letter from Jennifer Taves, PPG's Senior Manager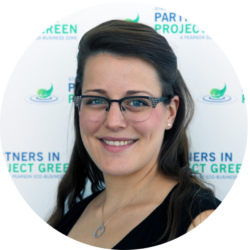 When Partners in Project Green started in 2008, we had the aim of creating the worlds largest eco-business zone located around Toronto Pearson. Today, we work with municipalities and businesses across the GTA and are a community of leaders advancing environmental action and economic prosperity across the GTA. Our geographic scope has evolved, and the challenges and opportunities that face this community have changed. COVID 19 continues to cause challenges for businesses and families alike, while climate change is increasing impacting our supply chains and our ways of living and working.
We have looked at our programming and consulted with our members to ensure that we continue to meet the needs of organizations in the GTA as they work towards sustainability, and we are excited to share how we will be evolving into this new age of the green economy with you.
Collaboration to drive implementation
One of the things our review has demonstrated is that collaborative growth is still the key to individual success. You may have already heard about the launch of the new Circular Economy Leaders Consortium, which is a group sustainable industry professionals seeking to achieve measurable waste prevention and diversion goals, focused on facility management and operations. Seven sustainability leaders have joined to date. To learn more or to join, please contact Chaya.Chengappa@trca.ca.
This program complements the long standing and highly successful Energy Leaders Consortium, whose members collectively saved over $3M in utility costs in 2021. Matt.Burnette@trca.ca can talk you through how, and what is in store for 2022.
We will continue to build out new consortiums through 2022, including a Climate Resiliency Consortium which is in the design phases now.
Social Impact & the United Nations Sustainable Development Goals
COVID-19 taught us lessons about the importance of community, which was reflected in our conversations with Members. The desire to participate in environmental programs that also have positive social impact benefits is clear. In 2022, we will continue to enhance our Material Exchange program, which takes materials that are no longer needed and finds a new home for them, often in vulnerable communities. This program has diverted over 18,522 tonnes of material from landfill valued at over $1,700,000 since 2014. To learn how you can divert waste streams or become a material receiver, contact Anna.Currier@trca.ca.
The United Nations Sustainable Development Goals are a standard that more and more Canadian businesses are using to align their sustainability efforts with global action. Over the past few years, PPG has deepened the connection between organizational and employee action and the UN SDGs through the People Power Challenge. This program drives action at home and at work on the SDGs. This year, there will be two campaigns over a three month period – Climate Action and Civic Engagement. Each campaign will encourage action related to multiple SDGs including: Good Health and Well-being (SDG #3), Reduced Inequalities (SDG #10), Sustainable Cities and Communities (SDG #11),  Climate Action (SDG #13). To learn more about how you can engage your employees and help to accelerate the UN SDGs, contact Victoria.Kring@trca.ca.
Membership Tools
Underpinning all this work was a clear need to refresh our logo and website to both provide our members with a seamless member management experience and carry us into the next stage of our development. In Spring 2022, a new Partners in Project Green logo will be unveiled, and a new website will be launched that will:
Deliver publicly accessible, meaningful sustainability resources and supports, especially for small-to-medium sized businesses

Expand Member benefits, such as locked content by Membership tier, discounts to TRCA managed events and programs, and increased leadership and recognition benefits

Provide seamless membership management

Provide more comprehensive Membership tiers:

Community Access – free access to high value tools and resources to drive sustainability results in your organization

Individual Members – Student, Early Professional and Young Professional

Corporate Members, by employee counts –

Funding Members – organizations that provide financial support beyond membership fees
More details about these exciting enhancements will be shared over the coming weeks. Current PPG Members will receive direct consultation on their membership and what this means for them. If you would like to join now, or if you have any questions, please contact Ozit.Bittner@trca.ca.
Continuous Improvement
Collaboration is at the heart of what we do, and we work closely with our municipal partners and business community to ensure we are delivering current, relevant, and impactful programs and resources. If you would like to learn more or discuss any aspect of the green economy and how we can work together to achieve a more sustainable future, please contact me at Jennifer.Taves@trca.ca.