City of Mississauga: Hazel McCallion Central Library Renovation Project, June 2023
Background
The Hazel McCallion Central Library, the largest library in the City of Mississauga, was closed for renovation in March 2021. As part of this process all the contents within the 5 floors of public and staff spaces, including furniture, carpet, fixtures, and equipment was to be cleared out. In preparation for this project, City staff from Library, Space Planning, Procurement, IT, Construction, and Environment developed a project charter, prioritizing waste diversion with end-of-lifecycle measures in mind. This resulted in substantial environmental, community, and economic benefits.
The Library and Space Planning teams took an innovative approach to the final disposition of assets. Members of the team sought to adhere to a zero-waste strategy which highly aligned with circular economy concepts by reimaging existing assets from waste to resources which led to the diversion of countless items from going to landfill to be reused at other facilities.
Scope of the Project
The first step in the process taken by the City of Mississauga is referred to as the Surplus Asset Solution. This involved the creation of a detailed inventory of every asset in the library. This inventory, created by the City's Space Planning department (see Figure 1), lists each asset in the library, along with the weight, and material composition of each item. By identifying this data, a flowchart of the different diversion streams are outlined, including reuse, recycle or landfill.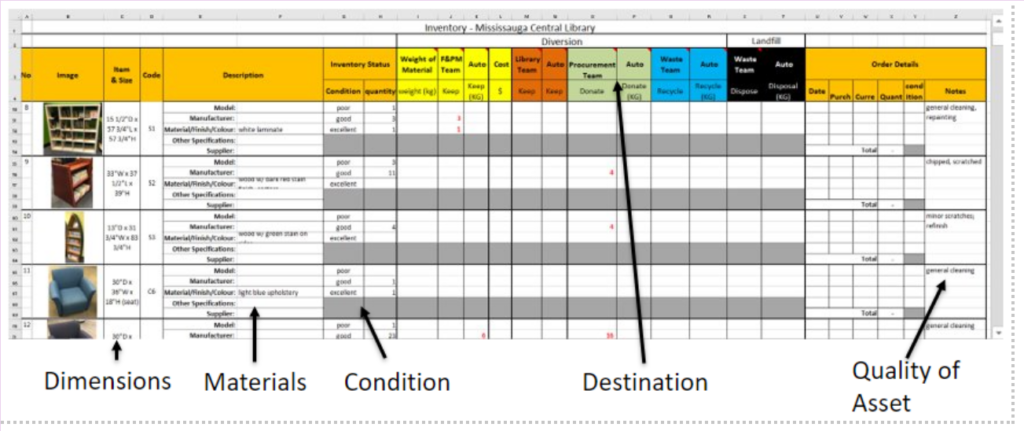 Since construction was scheduled to begin mid-April 2021, City staff were given two months to complete the Surplus Asset Solution, label each item for internal reuse, donation, recycling, or disposal, and relocate all items to their new home.
The largest quantity of items identified through this process were various types of chairs (e.g., fabric chairs, desk chairs, wooden and metal chairs, bar stools). Other common items included bookshelves, display cases, book carts, filing cabinets, lockers, and desks.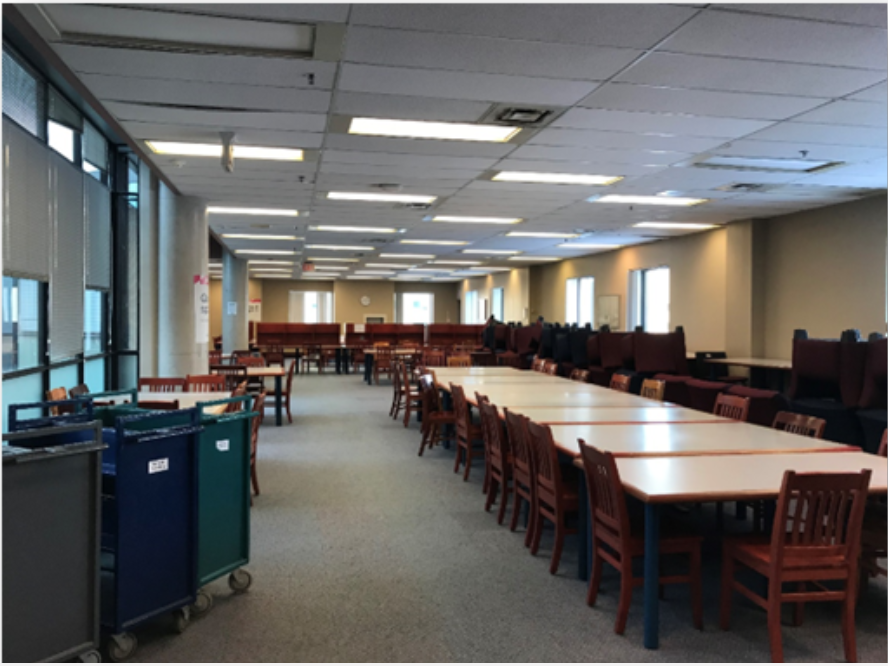 Solution Finding
After the inventory had been created, City staff identified what would be retained for internal use using colour-coded stickers. The most common items that were kept for internal use were book carts (161 items), office desks (277) and office chairs (147 items).
Items that could not be reused internally were donated to many non-profit community organizations across the Greater Toronto Area with the help of Partners in Project Green's Material Exchange Program (MEX) which offers a network of non-profit partners to contact and build relationships with.
The City noted that instances where there were large volumes of items to be donated, such as 209 wooden chairs, MEX played a significant role in making connections with non-profit organizations because of the trusted relationship PPG has built.
Connecting with additional non-profit organizations through the Partners in Project Green material exchange program was an important part of the process. Their connections and contacts were integral in enabling us to donate such a large number of materials as well as a wide variety of materials. Since they had built the relationships with these organizations, it provided a level of trust that we didn't have time to develop due to the fast timelines and unexpected complications due to the COVID 19 lockdowns.
– Diane Gibson, Environmental Sustainability Supervisor at City of Mississauga
Items that could not be reused internally or by community groups because of their poor condition were broken down into their individual materials (e.g., wood, scrap metal, paper, etc.) and recycled by the City's contracted recycler.

Key Metrics
In total, 120,064 kg was diverted from landfill as a result of this project which included over 400 pieces of furniture. The types of furniture that contributed the most to this figure were metal cabinets and lockers (9,221 kg), book carts (4,961 kg), and desks (4,125 kg). Other types of furniture included filing cabinets (108 items, 3,184 kg), display cases (14 items, 2,130 kg) and partitions (104 items, 1,192 kg).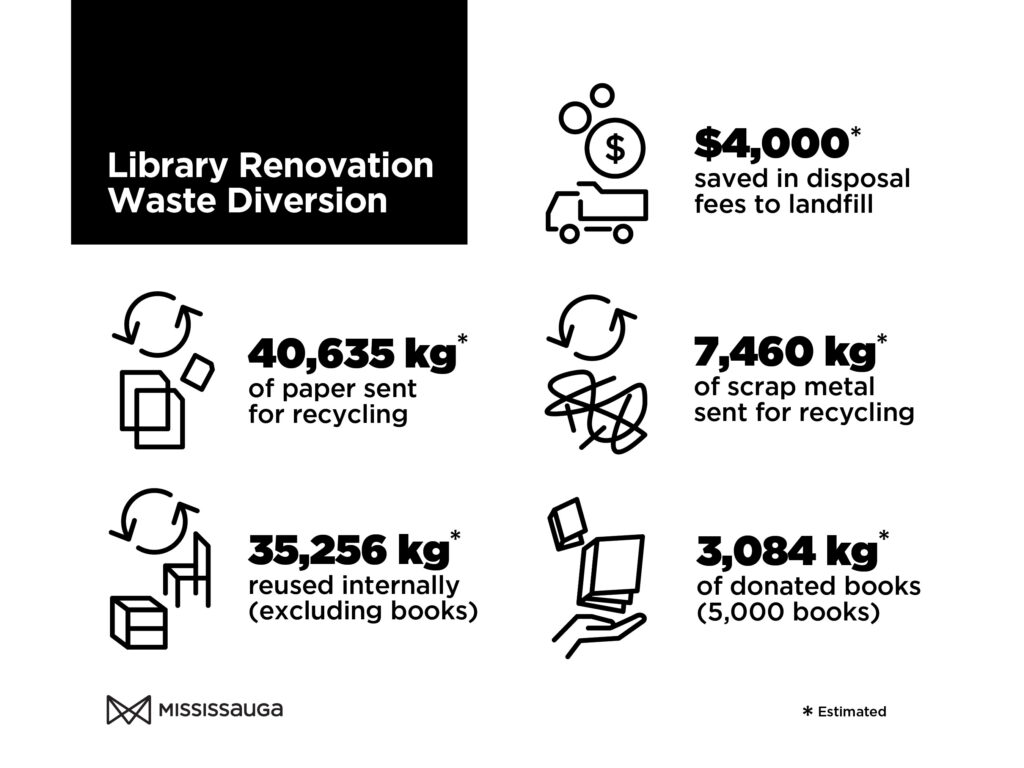 The entire process from planning to implementation took 1 year and four months. A large contributor to the length of the process was the COVID-19 pandemic and lockdowns. Once the planning was completed, City staff implemented the sorting and distribution of materials within a span of two months.
Lessons Learned
Notice to move items for donation was typically very short (about 2 days). Lessons that came out of the project included reflections on how early to engage external organizations about items for donation. Sometimes it is easy to find an organization willing to accept a donation, but other times a longer timeline for storing unique items is needed while a receiver is being found. Donation exchanges typically take several weeks to complete; therefore, this should be accounted for in project timelines. If new furniture is being procured, conversations with external organizations about donating the previous furniture should be happening at the same time.
Additionally, transportation needs to be arranged for items to be received by external organizations. Most of the items were sent to non-profit organizations who did not have the means to cover the cost of transportation, therefore the City has identified a need to work with moving/transportation companies to help overcome this obstacle.