About the Bentway
The Bentway is a non-profit organization that leads a creative movement to re-imagine Toronto's Gardiner Expressway. Its Phase 1 site, located under-the-Gardiner just west of Bathurst St, opened in 2018. Powered by vital partnerships with the City of Toronto, residents, supporters, artists, city-builders, and dreamers, The Bentway is a creative catalyst rooted in experimentation, leading a creative movement to re-imagine the opportunities for urban spaces.
Free art, culture, and recreational opportunities are offered throughout the year, including the well known skate trail, engaging the community and producing art commissions geared toward having a conversation about the City.
Beyond Concrete
The Bentway's latest public art exhibition, Beyond Concrete, has been stirring up conversations reflecting on the relationship between the human-made and natural worlds. All summer long a constellation of free installations, performances, conversations, and events can be found under the Gardiner, which explore the ways urban nature and the built environment can co-exist, entangle, even collaborate, proposing new possibilities for adaptive, resilient public spaces.
The signature installation, Balete Bulate Bituka, created by artist Leeroy New, explores the tangled relationship between nature and urban waste. With its parasitic tentacles wrapping around the architecture of the Gardiner, Leeroy's bamboo structure mimics the vampiric growth patterns of the Balete, a tree considered to be mystical and otherworldly in Southeast Asian culture.
Balete Bulate Bituka was a collaborative project that involved The Bentway reaching out to local organizations who could help provide materials for the installation (e.g., discarded plastics from domestic and construction contexts).
Rather than just creating an installation for a single purpose, The Bentway and its artistic partners were conscious of employing sustainable approaches across the entire Beyond Concrete season, including using organic and other materials that could be returned, repurposed, and/or recycled after the exhibition closes.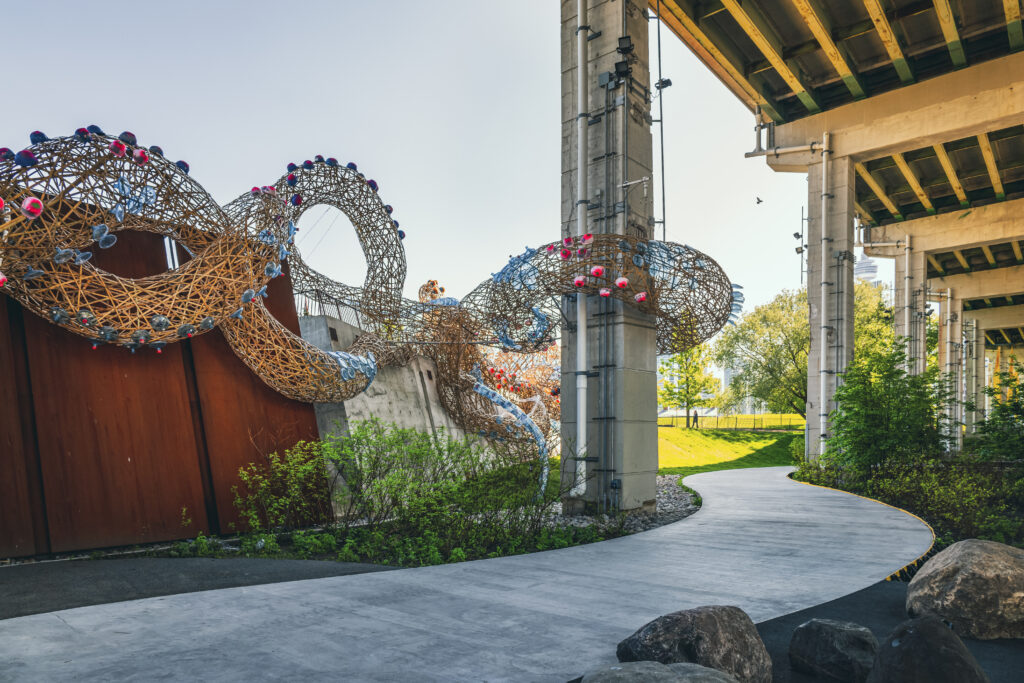 PPG's Material Exchange
In keeping with The Bentway and Leeroy New's commitment to sustainability, the 7,500 lbs (3,405 kg) of bamboo used for the installation is being donated through Partners in Project Green's (PPG) Material Exchange program and to the Kortright Centre for Conservation.
What's Next?
Continuing the conversation about sustainability and climate change, The Bentway will be hosting a "rave for climate grief" on July 8th called Earth Dreams.
Artist studio Nocturnal Medicine, present a contemporary festival that centres both joy and sorrow, dancing and meditation, as we confront our planetary health crisis. Equal parts DJ dance party and urban ritual.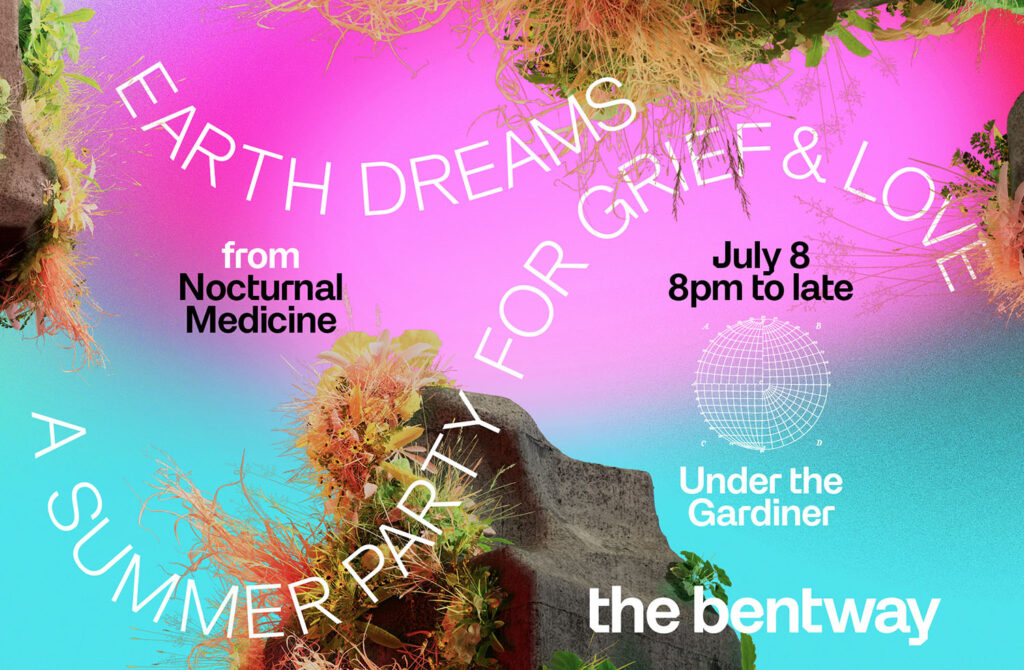 Contact Information
To stay updated with all the events at The Bentway follow them on Instagram, @thebentway
For information on how to get involved, contact hello@thebentway.ca