General Membership permissions are required to access this content.
Sustainable Salt Management Case Studies
The following section highlights PPG members taking action to reduce road salt use on their properties. Here you can learn about the steps businesses are taking across the GTA to minimize their impact on the environment, save money and protect staff and visitor safety with responsible road salt management.
If you want your salt reduction case study featured on this webpage, please contact us at Darlene.Coyle@trca.ca.
Seneca College: Salt Management Plan
Seneca College has completed an RFP process and selected a contractor who is onboard with helping Seneca reduce their road salt use by 50% for the 2021-2022 winter season and additional amounts the following years. Highlights from this Scope of Work include:
Acknowledging environmental impacts of excessive road salt

Salt reduction plan including alternatives to road salt use whenever possible

Closing non-essential roads, walkways, and paths over the winter season to reduce salt and de-icing material

Snow clearing to reduce the need for salt

Measuring accurate road salt delivery

Efficient application through pre-wetting and anti-icing techniques

Direct Liquid Application to prevent snow or ice bond to paved surface

Road salt alternatives and low-chloride materials
Preview Seneca College's Scope of Work document by clicking on the image below: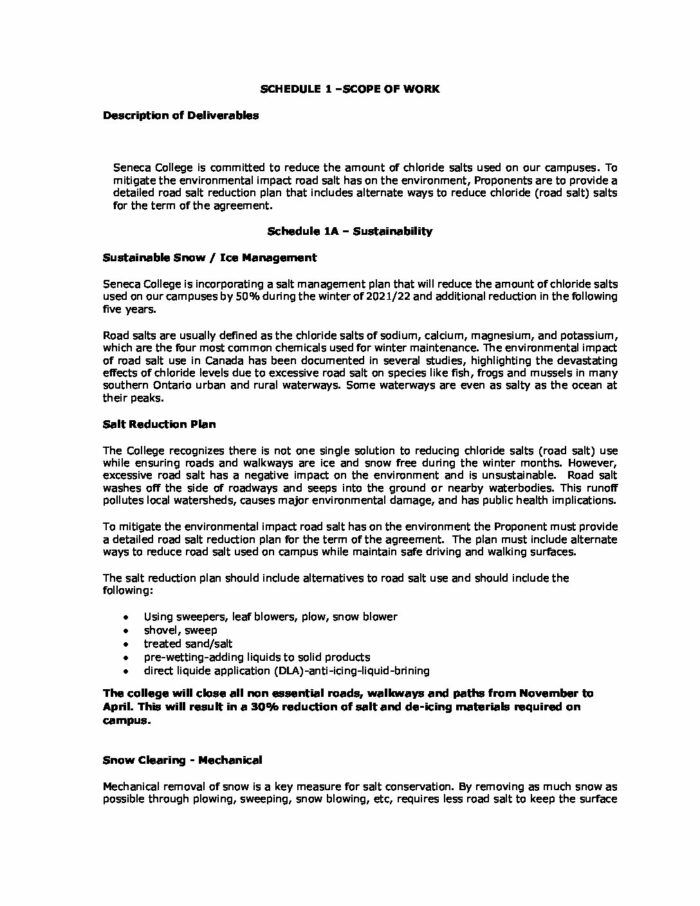 Sheridan College: Snowmelt System
In select areas of the campus, Sheridan College has a snowmelt system that reduces demand for road salt.
"Snowmelt – both buildings have a snow melt system. It uses a combination of glycol and water to melt snow and ice when outdoor temperature is below freezing, and moisture is detected on the ground. This keeps walkways safe and minimizes need for salt compounds that can adversely affect local aquatic ecosystems" – p. 5, 2020 Sustainability Report
Review their 2020 Sustainability Report here.