On November 10, 2022, Partners and Project Green (PPG) held an interdisciplinary forum discussing resiliency and regeneration, and what that means for the next stage in business sustainability.  This full-day event started with opening remarks from Todd Ernst (GTAA) and Jennifer Taves (PPG) and a poignant address from Gary Pritchard, followed by our first breakout session on Financing Net Zero. After lunch, we were highly engaged by a passionate keynote from Tom Rand and filled out the rest of the afternoon with two more inspiring breakout sessions on Building a Climate Resilient Business and Leading the Way Through Social Impact.
If you missed this fantastic event, or would like to watch it again, Partners in Project Green is now offering this event closed-captions and segmented by session for easier viewing.
Complete Package
Five sessions
Two Keynote addresses

Combining Indigenous Knowledge and Western Science to Advance Action on Climate Change
The Role of Economics in Social Wellbeing and Solving the Climate Crisis

Three Breakout sessions

Roadmap to Resilience: Financing Net Zero
Roadmap to Resilience: Building a Climate-Resilient Business
Roadmap to Regeneration: Leading the way through Social Impact

Over 6 hours of content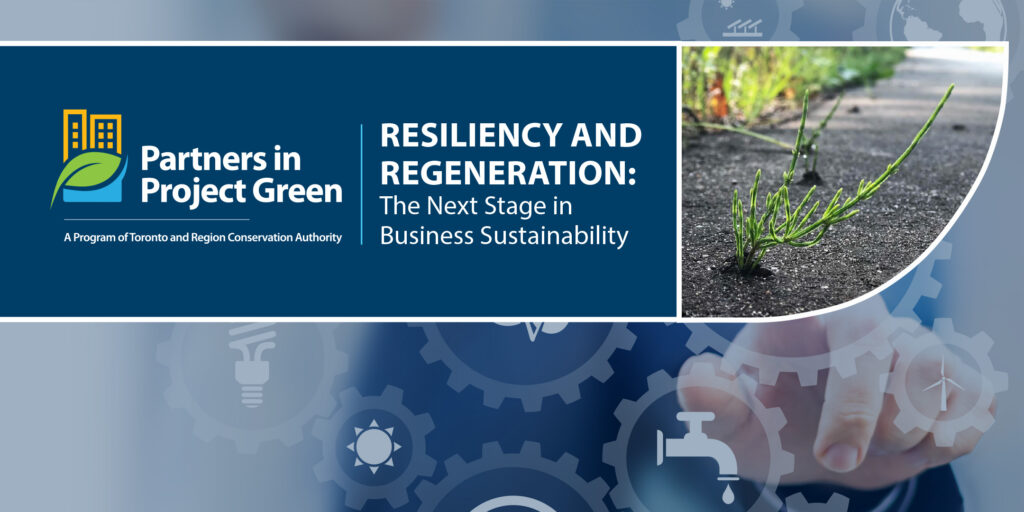 All of the sessions were very well done. I appreciated the practical information and concise nature of the sessions.

I also appreciated that it was a virtual event, otherwise I would not have been able to attend.
Learn about Resiliency and Regeneration from an exceptional list of experts in sustainability. Discover where we are today and how we can learn from the past to complete the sustainability goals we need to protect our future.
I enjoyed hearing from different presenters and projects. For a virtual event, it was well organized and engaging. It was a great way to gather information on how the Region can possibly cater businesses when it comes to sustainability such as water efficiency.
How to Download
You can purchase this complete set for the low price of
$80 for Future Members (a 20% savings over buying sessions individually)
$40 for Members
A La Carte Purchasing
If you would like to purchase and view an individual session or sessions, you can do so by clicking the links below
Combining Indigenous Knowledge and Western Science to Advance Action on Climate Change
The Role of Economics in Social Wellbeing and Solving the Climate Crisis
Roadmap to Resilience: Financing Net Zero
Roadmap to Resilience: Building a Climate-Resilient Business
Roadmap to Regeneration: Leading the way through Social Impact
Event Sponsorship and Speaking Opportunities
If you would like to sponsor an upcoming Partners in Project Green event, please contact Saba Khan, Program Manager, Membership and Business Engagement at saba.khan@trca.ca
If you are interested in participating in an upcoming event as a speaker or panelist, please contact Hershil Sheth, Events Coordinator at hershil.sheth@trca.ca
Other Resources and Links
To view more resources including the new Building a Climate Resilient Business Resource Kit, please visit our Resources page