Fuel Switching for the Environment and Employee Well-Being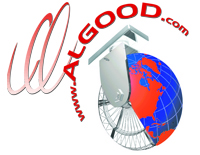 Although a small business, Algood Caster Innovations is Canada's largest caster manufacturer.  
Climate change issues like supply chain disruptions and carbon taxes have had cost implications for Algood, especially as a small business.  In response, Algood has started implementing monitoring and mitigation projects to save costs and reduce their carbon footprint. Most notably, Algood has participated in fuel switching for their machinery, transitioning from propane to battery-operated forklifts.   
Before this transition, propane lifts required opening warehouse doors to release fumes. In the winter, this raises heating bills to compensate for bringing in cold air. With battery-powered lifts, Algood can save on space heating and propane gas bills, as well as improve air quality for employees.  
In addition, Algood practices heat recovery. In the winter months, they direct their compressor's exhaust air into the factory for heating, allowing them to turn off 2-3 unit heaters.
Modernizing their equipment has helped Algood improve output in production and reduce costs. Anything that comes into the facility is assessed for how much energy it uses, where it's produced and how it gets to their facility. Now, climate awareness and greenhouse gas emission reductions play a major role in how Algood does business.  
For more information about Algood Caster Innovations, please visit their website.
---
Partners in Project Green's Building a Climate Resilient Business Resource Kit provides a foundation in the basics of current climate science, the impacts of climate change on businesses, and mitigation and adaptation strategies. Please explore these resources and connect with us to advance your organization's climate resiliency.
Resource Kit Contents
Primers
Impacts
Mitigation
Adaptation
Case Studies