Attention non-profit organizations! Partners in Project Green's Material Exchange has a large volume of chairs and tables available for donation. Those interested in receiving a donation would need to pick-up the material between February 15-26th, 2021.
The material is located in Mississauga and is available to non-profit organizations. A number of safety tactics will be deployed: the pick-ups will be timed to reduce contact, social distancing will be required, and appropriate safety gear will be required. Please review our website to see all materials available for pick-up. Participants must request a minimum of four items in order to be considered.
Please contact Catherine Leighton (catherine.leighton@trca.ca) with your requested items.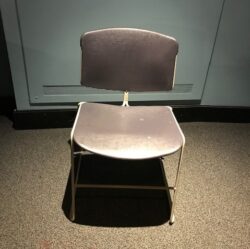 Item #1: Grey Chairs
Quantity: 40
Description: Chairs in good condition; grey metal base, grey plastic seat/back, stackable
Dimensions: 18″W x 20″D x 17″H (seat)
---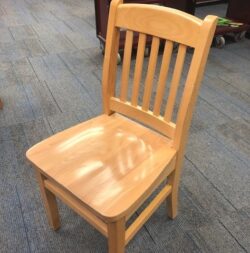 Item #2: Light Brown Wooden Chairs
Quantity: 25
Description: 9 wooden chairs in good condition; 16 wooden chairs in poor condition (scrapes, chips, etc.)
Dimensions: 18″W x 18″D x 18″H (seat)
---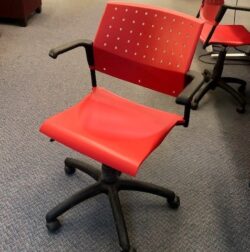 Item #3: Red Computer Chairs
Quantity: 35
Description: 35 chairs in excellent condition; dark red plastic/black plastic; hard castors
Dimensions: 23″W x 21″D x 20″H (seat)
---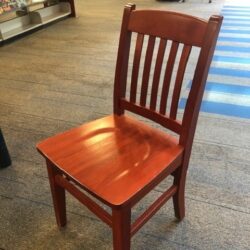 Item #4: Medium Brown Wooden Chairs
Quantity: 273
Description: 273 wood chairs in poor condition (scrapes, chips, etc.)
Dimensions: 18″W x 18″D x 18″H (seat)
---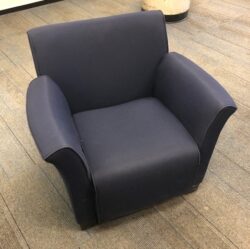 Item #5: Blue Upholstered Chairs
Quantity: 25
Description: 25 blue upholstery chairs in good condition
Dimensions: 36″W x 30″D x 18″H (seat)
---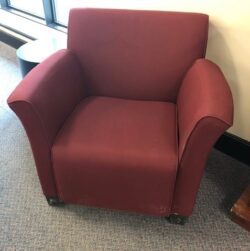 Item #6: Burgundy Upholstered Chairs
Quantity: 36
Description: 36 burgundy upholstered chairs in good condition
Dimensions: 36″W x 30″D x 18″H (seat)
---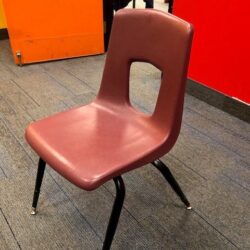 Item #7: Burgundy Plastic Chairs
Quantity: 46
Description: 46 burgundy plastic; black metal base, stackable in good condition
Dimensions: 16″W x 17″D x 17 1/2″H (seat)
---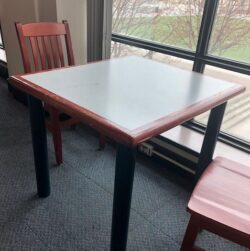 Item #8: Wood Tables
Quantity: 4
Description: Wood laminate tables with metal legs in good condition; grey speckled laminate, red stain wood edge; blue metal
Dimensions: 36″W x 32″L x 29″H
---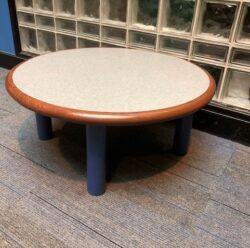 Item #9: Round Tables
Quantity: 17
Description: Wood laminate tables with metal legs in good condition
Dimensions: 36″Dia. x 16″H
---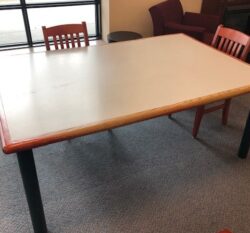 Item #10: Large Wooden Tables
Quantity: 66
Description: 66 Wood laminate tables with metal legs in good condition
Dimensions: 48″W x 72″L x 29″H
---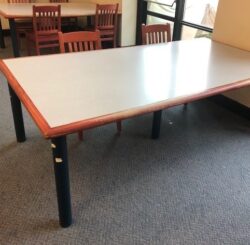 Item #11: Large Wooden Tables
Quantity: 8
Description: 8 Wood laminate tables with metal legs in good condition; grey speckled laminate; red stain wood edge; blue metal
Dimensions: 48″W x 90″L x 29″H
---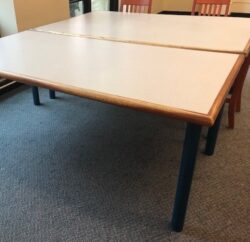 Item #12: Large Tables
Quantity: 30
Description: Wood laminate tables with metal legs in good condition; grey speckled laminate; red stain wood edge; blue metal
Dimensions: 36″W x 72″L x 29″H
---

Item #13: Large Tables
Quantity: 16
Description: Wood laminate tables with metal legs in good condition; light grey speckled laminate; red wood edge; chrome; black plastic castors
Dimensions: 30″W x 60″L x 31″H
---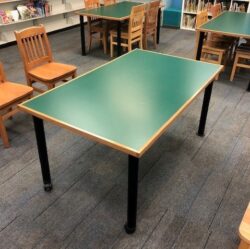 Item #14: Large Tables
Quantity: 7
Description: 7  laminate tables in excellent condition; green laminate; wood edge; black base mobile with castors; 4 post legs
Dimensions: 36″W x 60″L x 28 3/4″H